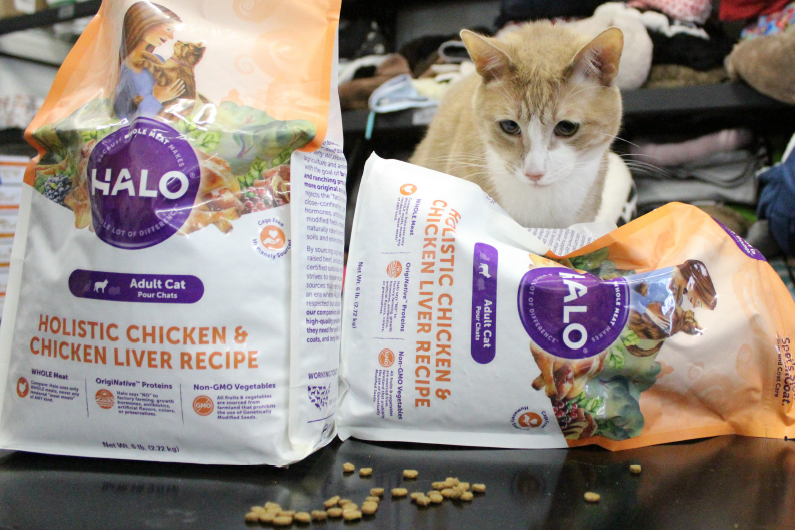 The Stray Cat Alliance seeks to save cats—including kittens—from the unwelcome distinction of being the most killed animal in US shelters. Thanks to cat food donations that come from Halo's partnership with Freekibble.com and GreaterGood.org, Stray Cat Alliance's programs are making a difference in outcomes for cats and communities in Los Angeles and communities throughout Southern California.
Here's what Stray Cat Alliance had to say about a recent Halo Pets donation:
"The support that your contribution of food made to our work impacted an estimated 5,000 meals for the animals we serve. The second largest cost for Stray Cat Alliance after medical care is food. We help thousands of kittens, cats and feeders throughout Southern California. Food is key to survival of our cats in a variety of settings – on the streets, in foster homes and in our care. Being able to provide food to those who foster animals and community cats has a huge relief on our budget and provides a big incentive to volunteers who save cats and kittens in collaboration with us.
This donation of dry food was used in a variety of ways:
Fosters: At any one time we support 400-1,000 foster cats and the people who take care of them. Our primary foster program is the Safe-at-Home kitten program. Through that program we saved a quarter or 564 of the kittens who were surrendered to the South LA Shelter in 2017. This year, we're on track to do about 800 kittens in that program alone.
Community members who feed feral colonies.
At our headquarters for the adult cats we have in our care. Our photos show our office cat Pumpkin, a senior cat who was rescued from Orange County. He has his own Instagram Bitemepumpkin.
Pumpkin is representative of many of the animals we save – abandoned and facing death. Pumpkin has some behavioral issues and was returned to the shelter at a senior age. Adoption of senior cats is low. We also get kittens who have been orphaned and would be killed the day they come to a shelter. And, community cats who fend for themselves on the streets."
Thank you Stray Cat Alliance for making a WHOLE lot of difference for pets in your community.
When you choose Halo pet food, made from real WHOLE meat, poultry, or fish, and NO "meat meal" of ANY kind, your pet won't be the only one with a radiant coat, clear eyes and renewed energy. Halo feeds it forward, donating over 1.5 million bowls annually. As always, Halo will donate a bowl to a shelter every time YOU buy. Thank you for helping #HaloFeeditForward.