We at Halo love hearing from customers. It brightens our day hearing how pets benefit from our holistic pet food. Our companion animals cannot make choices by themselves and they do rely on us. HALO is committed to delivering exceptional cat food and dog food that you can trust and your pet will love.
Recently, we heard from Hanna who was searching for a healthy cat food for her feline companion, Toulouse. Here's what she had to say: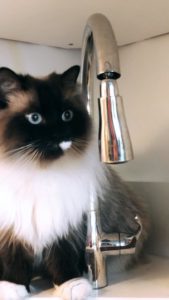 "I just wanted to write because I am so grateful for your cat food! My cat is almost 4 and has HCM [Hypertrophic cardiomyopathy], and he used to meow starting at 3 or 4 in the morning until we finally got up for the day. It was unbearable! But we started him on your food about a month ago (purely because it was on Thrive Market and it looked like it had some good reviews) and the meowing has completely stopped. It's incredible! To test if it really was your food, we switched him back to the old food, and lo and behold, he started meowing in the middle of the night again. It's really your food that has revolutionized our lives! Plus he loves it (he has never been the type of cat to eat his whole meal at once, and now he does) :)"
Thank you so much for your kind words, Hanna. We really appreciate you taking the time to share your Halo experience with us. We hope Toulouse continues to be happy and healthy.