Happy New Year, Pet Lovers!
If you haven't heard of it already, Veganuary is a wildly popular online challenge to cut animal products for one month. Already, over 500,000 participants have taken the pledge since Veganuary started in 2014, and just last year over 500 businesses participated, launching more than 200 new vegan products during January.  It's kind of a big deal!
While the majority of participants take the Veganuary pledge for health benefits, almost half do so because of their concern for animals and the environmental impact of animal agriculture. In the USA, meat consumption last year was equivalent to over 250 pounds per person. To put that in perspective, a total of over 8.6 billion chickens, 210 million turkeys, 25 million ducks, 30 million adult cattle, half a million calves, 100 million pigs, 100 thousand mature sheep, nearly 2 million lambs, half a million goats, and 50 thousand bison were slaughtered in the USA last year. While those figures are staggering and speak for themselves, from an environmental standpoint the impact of animal agriculture is devastating. Over half of water use in the USA goes to growing crops for livestock, with production of 1lb of beef requiring over 5,000 gallons of water, 1lb of eggs requiring close to 500 gallons of water, and 1gallon of milk needing almost 1,000 gallons of water. While we are currently growing enough food worldwide to feed 10 billion people, at least half of the grain produced is fed to livestock instead. Of course, everything that goes in must also come out: our dietary choices are responsible for more greenhouse gas emissions than all forms of transportation combined. In the USA, 130 times more waste is produced from animals than from humans, with nearly 1.5 billion tons of waste produced by the meat industry per year – that's over 5 tons of animal waste per person.
What does any of this have to do with dogs? Though we don't often think about it, what we feed our companion animals matters too. There are around 80 million dogs in the USA, and, along with over 80 million cats, they consume almost a quarter of the amount of dietary energy of the human population and over a third of the animal-derived energy, giving them responsibility for over a quarter of the environmental impacts from animal agriculture! That's over 60 million tons of CO2-equivalent methane and nitrous oxide per year, all from what we feed Fido and Fluffy. These values are so significant, it has been suggested that if Americans transition their pets to eating less meat, it would reduce the overall US consumption of meat in a meaningful way. While all of this may seem a bit doom and gloom, the good news is that our choices matter, and when we choose to make a difference it can really count. Statistically, in Britain alone, Veganuary 2019 saved 3.6 million animals (and their respective environmental impacts) in just 6 months.
No matter what your reason for trying vegan this January, Halo has the award-winning plant-based dog food so your canine companion can join you. The Garden of Vegan diet comes in both kibble and canned foods to suit every fur-friend's preference. Just like any Halo diet, these plant-based foods were formulated with dog health and wellbeing as the most important outcome. These formulas are nutritionally complete and balanced containing all the nutrients dogs need to maintain a healthy lifestyle. These foods have stood the test of time, being enjoyed by dogs for nearly a decade. Of course, your dog wants to know – what about training and treat time? You can still pamper your pooch while keeping the Veganuary pledge with plant-based treats like the Halo Healthsome Garden of Vegan Sweet Potato, Carrot & Quinoa or Grain Free Peanut n' Pumpkin Dog Treats. For dogs with particular health requirements, Halo has condition-specific supplements like Immune Support and Sensitive Stomach that contain no animal ingredients.
With Halo's help, together you and your pooch can join the over 300,000 people who have already signed up for Veganuary 2020. We can all make a difference and make this world a kinder and healthier place for people, pets and the planet.
Best wishes and tail wags!
Dr. Sarah Dodd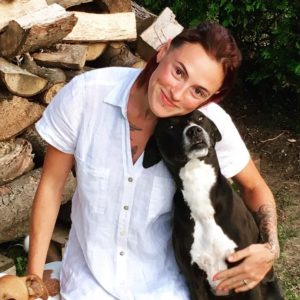 Dr. Sarah Dodd is a veterinarian with a special focus on companion animal nutrition. Her studies have taken her around the world living in England, Scotland, New Zealand, Australia, the United States of America and Canada – where she currently reside with her three happy rescue dogs Peppa, Dottie and Timmy. 
She graduated from veterinary school in 2016, since then she has pursued her passion in nutrition with a clinical nutrition internship and a Master's degree at the Ontario Veterinary College. She is currently completing her nutrition residency with the European College of Veterinary and Comparative Nutrition and enrolled in a PhD studying plant-based diets for pets.