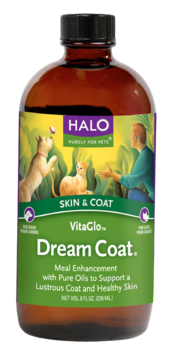 We received this review from Cierra about her "Roxie" and Halo Dream Coat:
This is one of my babies Roxie. We got her from the Owen Sound Animal Shelter on December 19th 2014. Knowing my beautiful girl was just 8 months old when we got her and came in as a "stray".
With very thin and brittle fur, it was hard for us to get Roxie to have a nice shiny coat, even after her placing her on a very good food. There is almost a one year difference between these photos but the only thing that changed was her size.
While walking through Pet Smart in Owen Sound I decided to try the Halo Dream Coat product just as a random grab and Roxie used it for just ONE month, and I'm SO thankful for this product.
Her fur is beautiful now, so shiny and soft. She has NO bald spots anymore and is looking her healthiest. I can't believe how well this product has worked for her, I will HIGHLY recommend this product to anyone looking to treat hair loss for their pets.
Thank you Cierra for writing us and sharing the pictures of Roxie! We are happy to hear that she is doing so well and her coat is now shiny and soft.