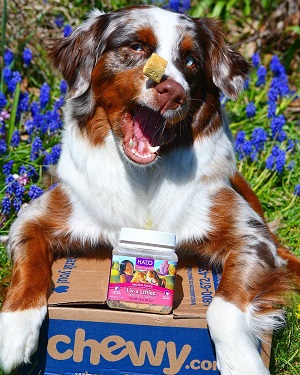 prettypyperaussie Instagram:
"Can you tell someone totally loves her new @halopets wild salmon treats!?As soon as Pyper sees a @chewy box she goes bonkers knowing the delicacies inside are for her. In this box we received @halpoets treats and we have never tried this brand before. I'm happy to say Pyper and I are both very pleased!
Since Pyper is raw fed, these 100% freeze-dried wild salmon treats are absolutely perfect! We also love that they are made in the USA.
There is no hiding these delectable treats though…you can definitely notice the salmon smell right away, but that doesn't bother us. We would definitely purchase more @halopets treats in the future!
Not to mention, @chewy has been apart of our lives for a long time, and we are proud to say that we have almost never purchased any of our doggie essentials anywhere else. How can you resist amazing customer service, free 1-2 day shipping (over $49), and an amazing food policy?!?"
Thank you prettypyperaussie for sharing this great picture of Pyper!