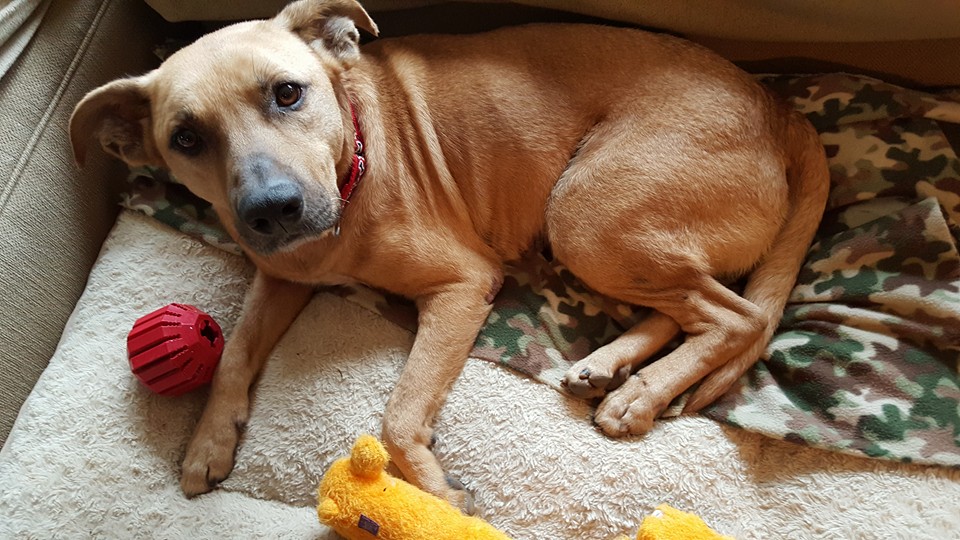 Alcovy Pet Rescue, Inc. in Winder, GA met Denver in November 2015 when they responded to a Facebook post looking for a rescue group to help a half-paralyzed dog. Denver's paralysis was the result of an old injury and it was thought that Denver would need a cart to get around. In addition to his partial paralysis, Denver was dealing painful infections. To make matters worse, he also tested positive for heartworm.
Alcovy Pet Rescue, Inc. wasn't going to give up on Denver – and he wasn't going to give up either. Surprisingly enough, after some steroid treatments, as well as hydrotherapy sessions and massages, Denver has regained the use of his back legs!  Now Denver is ready to start his heartworm treatment and additional treatments for his persistent ear and skin infections. Unfortunately, those are going to be expensive.
Because you buy Halo for your own pets, you're already helping Denver! To cover the expense of Denver's long road to adoptability, Alcovy Pet Rescue, Inc. is hoping to raise $850 through a crowdfunding campaign on LoveAnimals.org. Your purchases are why we're able to be the founding sponsor of LoveAnimals.org, allowing Alcovy Pet Rescue, Inc. and other groups to find the funds they need to care for animals in need. We're honored to be a part of Denver's story through his campaign on LoveAnimals.org.
Denver's campaign runs until May 31, 2016. If you want to see more adorable photos of Denver, Alcovy Pet Rescue, Inc. has created a Facebook page, Denver's Wheels, just for updates about Denver!